A surprisingly fun team building in times of Corona?
Cook together with your colleagues during an online cooking workshop with Cuisine Quarantaine.
Interactive, relaxing and connecting
Easy and healthy: ingredients delivered at home for 2 or 4 people
Available via Zoom, Microsoft Teams, Google Meet or Cisco Webex
From € 25 per person
Ottolenghi
Roasted aubergine with yoghurt dressing and pomegranate seed
Salad of dates, chickpeas and quinoa
Comfort Food
A delicious vegetarian burger with healthy fries. Everyone loves it.
Make your own chickpea burger, with a fresh pesto, sweet and sour onions and sweet potato fries.
Tuscany
Bucatini with fennel and spicy sausage – A hearty tomato sauce with sausage and fennel, as the Tuscan like to eat it. With a classic bean salad and ciabatta.
What did others think about it?


 Eefje cooked with her colleagues from Cisco:
"Since it was not possible to visit the farm because of the corona virus, we had a virtual workshop from Martijn. It was certainly a different experience, but because everything was very good organized by Martijn and his wife, everyone had the groceries on time with clear instructions. Martijn gave good explanations and it still felt like a real team activity because you could see that everyone was busy, so I definitely recommend it! Well prepared,, nice cook and most importantly: good food! "
Kaylee cooked with Van Lanschot:
"We followed the online workshop as a company outing. A nice alternative in the corona time! Despite the fact that we were with a larger group, the event was very interactive. Something that we missed in other online events of the past. period. The products were neatly delivered to your home. We have made a super Ottolenghi dish that I have prepared at home many times since the workshop. And above all had many enthusiastic colleagues! We certainly recommend it to both individuals and companies. "
De Volkskrant cooked with us and wrote about it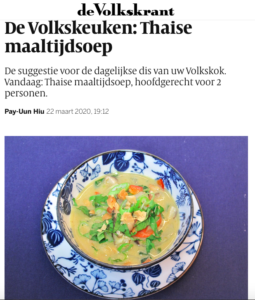 Master Dide cooked with his class:
"After the first week in which the schools were closed due to the Corona virus, I digitally met with the class via Zoom to take a cooking class from Martijn. All the children had prepared well and were looking forward to cook the Panna Cotta. Martijn guided the children very friendly and step by step through the cooking process. The fun thing about the digital cooking class was as a teacher that the children were activated and approached to make something tasty from their own kitchen. So highly recommended! "
Spoil your colleagues
Choose care and attention for your colleagues and have the groceries delivered to their home.
The ingredients are packed per 2 or 4 people and delivered to your home. With a recipe. 
Prices
Online cooking class: € 25 per person
Delivery-service
Ingredient package for 2 people, including delivery throughout the Netherlands: € 32,50
Ingredient package for 4 people, including delivery throughout the Netherlands: € 42,50
The above prices are exclusive of VAT and from 12 persons.